Steak house YOSHIDA ~English Page
Enjoy a delicious meal of top-quality A-5 grade Japanese Black Beef in our relaxed atmosphere.
Rare parts A5-BMS No. 12
A5 has a BMS (marbling) ranking from 8 to 12,with 12 being the highest rank.
The higher the number, the higher the quality of the meat.
Of course, Kobe Beef is more than a famous brand beef.
It is almost never sold in the market.
Your steak is prepared right before your eyes, so that you can enjoy it at its most fresh!
Your meals are served according to your pace.
We purchase only quality meat after tasting and checking to serve fine stakes to our customers at reasonable costs!
Our in-house tank keeps fresh tiger prawns, abalones, and Ise lobsters in stock.
Whether you choose order from our course menu or ala carte, we're sure you'll enjoy your meal.
Course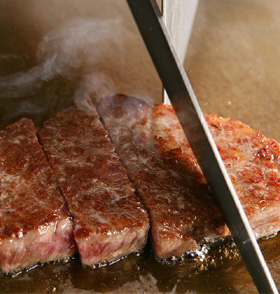 Kuroge Wagyu Beef A5 BMS No.12 tenderloin course
(100g) ¥14,450
*Reservation required by the day before
One dish
Grilled vegetables
Tenderloin or Sirloin
Garlic toast
Salad
Fried vegetables
Frid Rice
Desert
Sirloin steak course
・(100g) with pilaf ¥10,960
・(150g) with pilaf ¥13,960
One dish
Grilled vegetables
Seasonal fish
Tenderloin (100g) or Sirloin (100g)
Garlic toast
Salad
Fried vegetables
Frid Rice
Desert
Chef course
・(Here) with pilaf ¥15,790
・(Sirloin) with pilaf ¥13,360
One dish
Grilled vegetables
Tenderloin or Sirloin
Garlic toast
Salad
Fried vegetables
Frid Rice
Desert
Pair course
・ Fillet (200g) ¥45,600
・Sirloin (200g) ¥38,700
・ Fillet (100g) & Sirloin (100g) ¥42,000
One dish
Grilled vegetables
Kuruma shrimp (2 pieces)
Live black abalone (1 piece)
Tenderloin (200g) or Sirloin (200g)
Garlic toast
Salad
Fried vegetables
Frid Rice
Desert
A la carte menu

Tenderloin steak (100g)

¥11,600

Sirloin steak (100g)

¥7,700

Wild tiger prawns (×2)

Market price

Grilled abalone butter

Market price

Japanese spiny lobster (reservation required)

Market price

Seasonal fish

¥1,980

Grilled scallop

¥2,200

squid

¥1,570

Octopus Muniel

¥1,570

oyster (winter / reservation required)

¥2,500

Foie gras steak

¥2,800

Grilled beef tongue garlic butter

¥3,000
outside skirt steak

¥1,880

hamburger steak set (reservation required)

¥2,200

Grilled chicken thigh Black pepper

¥850

Japanese beef sashimi

¥2,420

Roast Japanese beef

¥2,420

Seasonal salad

¥880

Japanese basil pilaf

¥1,470

garlic rice

¥1,470

Omelette rice

¥1,800

rice set

¥850

Baked ice cake(Reservation required)

¥3,000

Homemade sherbet

¥450
Drink menu
Glass wine, red or white

¥1,150

White wine

¥5,030~

Red wine

each ¥5,030~

Draft beer

¥840

Shochu grain alcohol

each ¥730~

Cocktails

each ¥730~

Soft drinks

each ¥530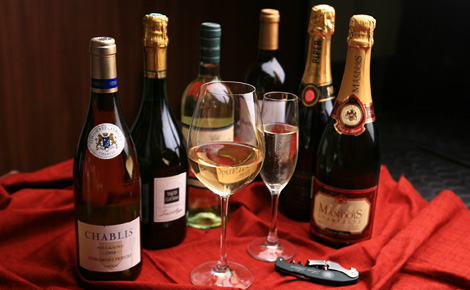 Shop guide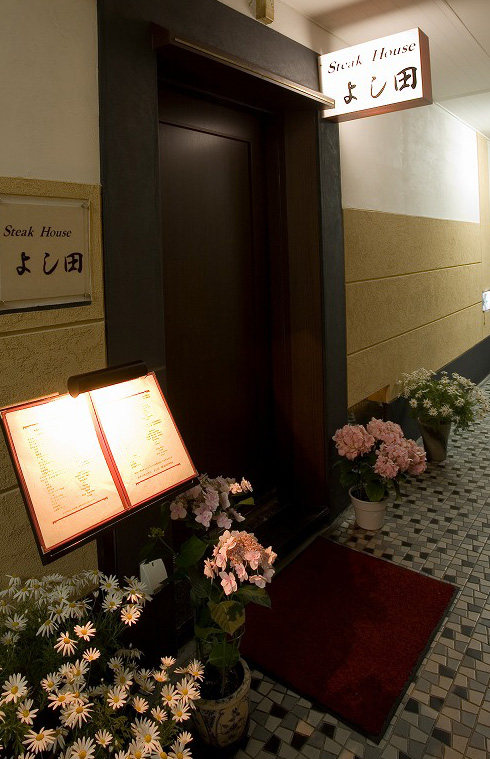 Address
〒542-0083
1F, Minami Grand Kaikan 2-5-19 Higashi Shinsaibashi, Chuo-ku, Osaka 542-0083
Access
5 minute walk from subway Midosuji line Shinsaibashi station
Phone
Open schedule
Mon~Sat 17:00~23:30(L.O.21:30)
Holidays 17:00~23:00(L.O.21:00)
Closed
Sunday (open when Monday is a holiday, and closed the following Monday)
Average cost
¥10000
Credit Cards accepted
VISA MASTER UC DC Diners Club American Express JCB
Dress code
No
Capacity
9 seats
Options
English menu available / English speaking staff available / Takeout menu available / Birthday benefits in menu / Equipped with Wine cellar
Access Map